If you don't love wine and cheese, we cannot be friends. Just kidding. But maybe we're a tiny bit for real because we are awarding ourselves an A+ in Cheese Research 101. Our fabulous friends at Di Bruno Bros are super knowledgeable and were more than happy to help us pair our selections and teach us a few things along the way (and, um, it's really easy to pay attention when your teacher hands out samples – like a lot of samples!)…
Check out the pics below and follow along as we take you clock-wise starting with that big round hunk of cheese on the bottom…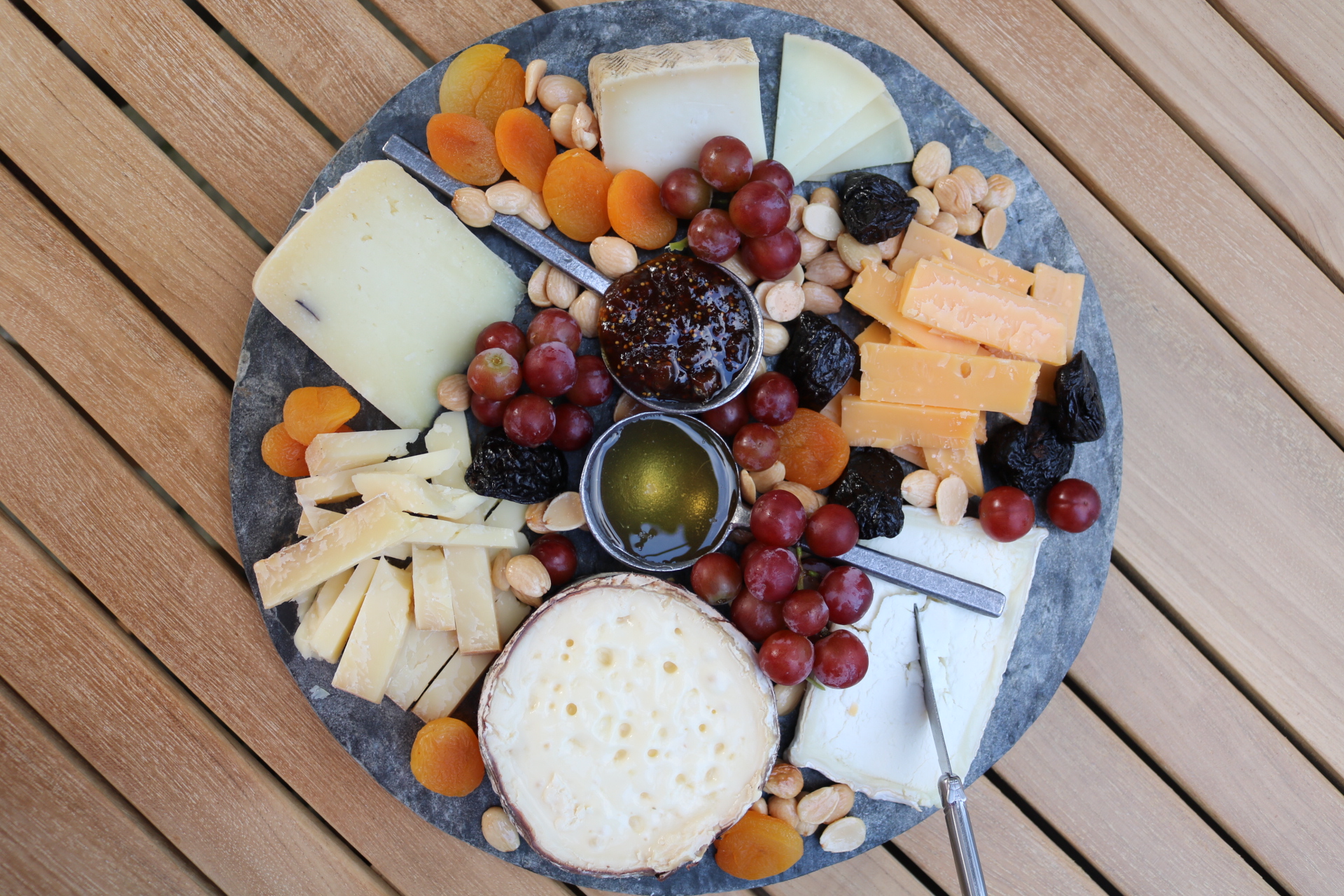 Harbison
Delicious; however, we would not recommended for those who prefer a more mild cheese. Harbison is a soft-ripened cheese with a rustic, bloomy rind, made by Jasper Hill Farm. Young cheeses are wrapped in strips of spruce cambium, the tree's inner bark layer, harvested from the farm's woodlands. Harbison is woodsy and sweet, balanced with lemon, mustard, and vegetal flavors. There is a natural blue green flora present on the spruce cambium.
Florys Truckle Cheddar
What comes to fruition is a cheddar with an unparalleled peppery aroma and a rich grassy flavor. The dense and crystallized paste needs something juicy to go along with it – keep that in mind and lay out a spread of plums! (We used prunes).
Cacio Di Bosco Al Tartufo
A firm oily Pecorino from Tuscany, stuffed full of black truffle shavings. Great for snacking or shaving over pasta and risottos!
Payoyo Semicurado
A firm goats milk cheese similar to Manchego and characteristically goaty. Fruity in flavor this cheese finishes with a bit of tang.
L'amuse Gouda
This 2 year aged cows milk cheese is a must try and be sure to pair it with DiBruno brothers black lava salt cashews! Sweet caramel layered with toasted nuttiness; firm-but-creamy paste spotted with casein crunch. The reigning queen of aged Gouda, to which all others simply bow.
Leonora
This classic chèvre style cheese made in Leon Spain may just be one of the best things you ever put in your mouth. Spread it on some warm toasted bread and top with drizzled honey or a small dollop of fig jam.
Wine Pairing: Notorious Pink Rose
We choose to indulge in Notorious Pink Rose. We fell in love with the bottle first, but then tried it and let's just say we'll be buying in bulk moving forward. The cork is glass, pink and super chic. The rose is made from 100% Grenache from the South of France and is crisp and well-balanced. Check it out below.